Neverwinter has 5 professions, Leadership, Tailoring, Leatherworking, Mailsmithing and Platesmithing. The professions allow you to craft items, retrieve crafting materials, astral diamonds and much more.
Professions SlotsEdit
When you open up the Professions menu, you will see several profession slots (9 in total). Each slots can be unlocked by completing profession tasks which rewards experience, levelling up your character or by completing one of the 3 challenges below.
Profession Level 3
Profession Level 10
Profession Level 20
Adventure Level 10
Adventure Level 30
Adventure Level 60
Get any 3 Professions to Level 20
Complete a task with at least a 100% speed bonus
Complete a task and earn the Rank 3 result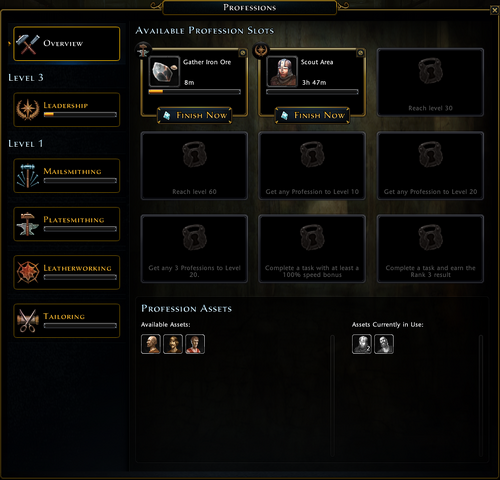 The crafting professions menu unlocks at level 10 and there will be one profession slot available. You will be able to train up and use all 5 professions.
Before you can begin to craft, you must hire an asset. This is similar to a companion which can go off and complete tasks such as crafting or gathering resources on your behalf.
Assets are ranked from 1 to 3 and can come in the following rarity:
Uncommon: +5% Speed Boost
The rarer the asset, the bigger the speed boost for completing tasks.
LeadershipEdit
Possible Rewards:
Coins
Adventuring Experience
Profession Experience
Chest containing a random crafting material
Hiring Assets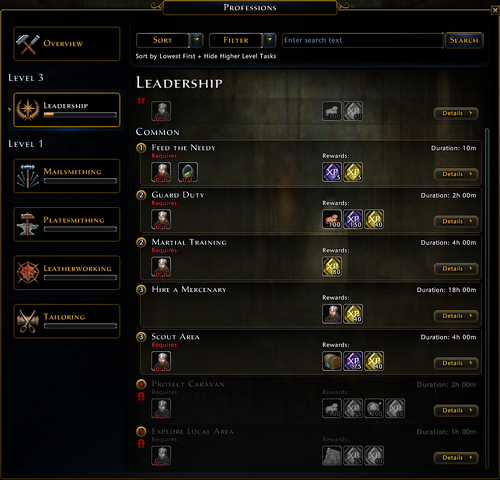 TailoringEdit
Possible Rewards:
Profession Experience
Craft Armour
Gather Resources
Hiring Assets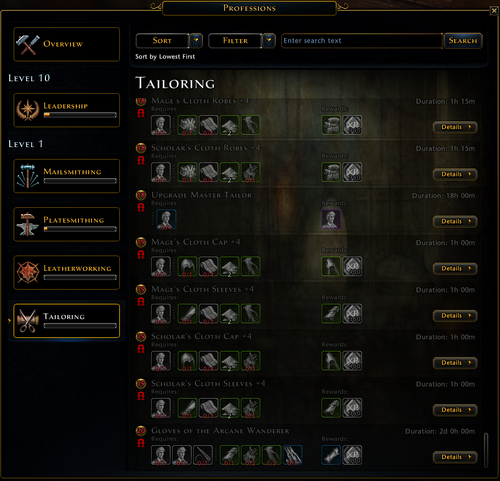 LeatherworkingEdit
Possible Rewards:
Profession Experience
Craft Armour
Gather Resources
Hiring Assets
MailsmithingEdit
Possible Rewards:
Profession Experience
Craft Armour
Gather Resources
Hiring Assets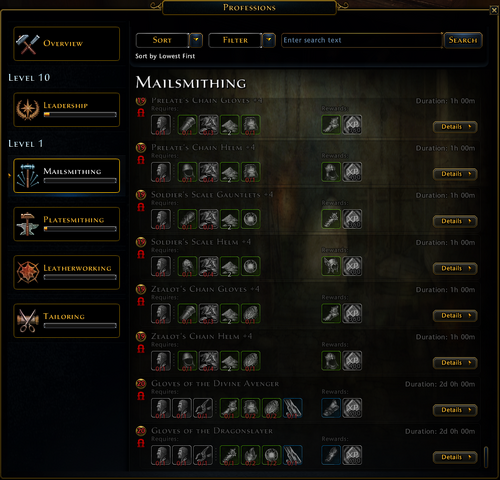 PlatesmithingEdit
Possible Rewards:
Profession Experience
Craft Armour
Gather Resources
Hiring Assets