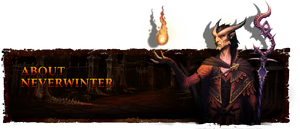 Frequently Asked Questions
Edit
Q: What is The Foundry for Neverwinter?
Edit
With The Foundry, you have the power to tell new tales by creating quests, zones and stories that you can share with your friends and the entire Neverwinter community. Use this robust set of editing tools to create new dungeons to explore, or re-imagine your favorite campaigns from the ground up!
Q: How can I learn more about The Foundry?
Edit
The Foundry is currently in development, but be sure to check back here as we'll be adding Tutorials and Walkthroughs that will help you make the most out of this toolset. This FAQ will also be greatly expanded as we near release.
Q: How will I be able to access The Foundry?
Edit
You'll be able to access The Foundry easily from in-game. The Character Creation screen includes a direct link to the toolset. Missions, once published, will also be accessible in-game.
Q: What level does The Foundry unlock at?
Edit
If the player has purchased the "Hero of the North" pack, they will get immediate access to the foundry from level 1. If players have not purchased this pack, it will unlock at level 15.
Q: Will I be able to play adventures created by other players?
Edit
Yes! Making player-authored content available to the community is an essential feature of Neverwinter and The Foundry makes it happen.