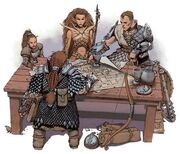 Awesome!!  You got your hands on the foundry.  Now how do you go about creating your quests?  You normally won't be able to create content right away.  Your best bet is to familiarize yourself with the tool. 
Experiment first, you wont break anything - and then go back offline and think of a concept, design it maybe on a peice of paper creating a rough story like a comic strip, and then come back to create some good content.
This manual will help you when experimenting with tools but in no way can it replace the actual hands-on experience that you will get from pure trial and error handling of the program.